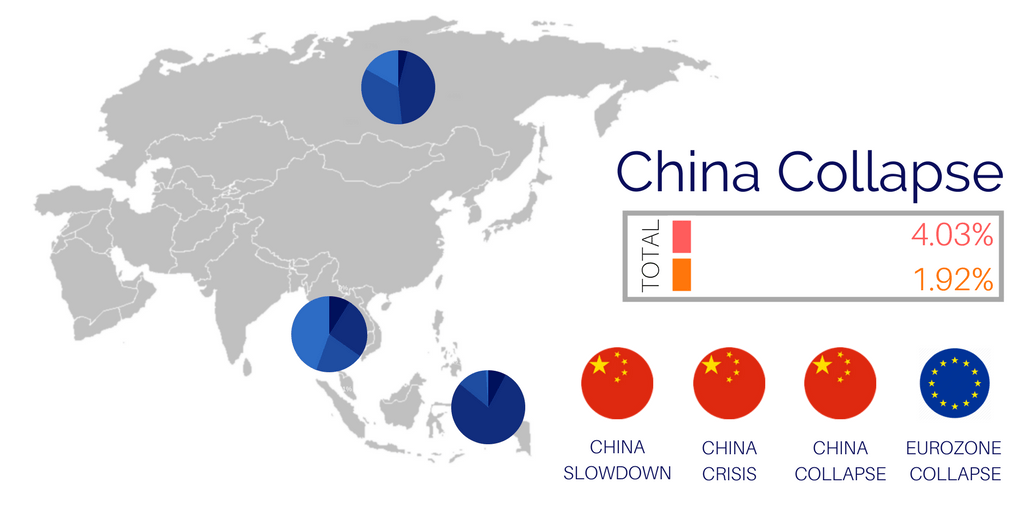 Our probable maximum loss (PML) credit model helps clients assess the effect of political and economic shocks on the risk of corporate defaults and the dollar impact on an insurance or investment company's assets.
No two risks in one country are alike. AKE's credit model is unique in that it uses expert political risk analysis from
our team of regional specialists
to capture the variation in the risk faced by different companies and different sectors, as well as capturing the contagion effects of global shock scenarios. 
The PML credit probable maximum loss model helps leading credit risk underwriters to inform their underwriting strategy by assessing the risks to their entire portfolio, as well as the default probability of an individual company.

Credit risk model, probable maximum loss (PML)
Unexpected shocks can have huge effects on a company's performance. Understanding exposure to shocks through use of AKE's credit probable maximum loss (PML) model will better help companies manage their risks and provide them with competitive advantages. Radical regime change, a sovereign debt crisis or a hydrocarbon shock will all have financial implications. AKE's credit PML model analyses both the probability and effect of a range of shocks on an insurance or investment client's specific exposure.

 

AKE's Intelligence team consists of regional and subject matter specialists. We have been supporting investors and underwriters in financial services in managing the main political, economic and security risks to their business for over 25 years.
---
Assess the probability of default
By combining ratings for a range of company, country and sector specific factors, and combining them with political risk analysis from AKE's regional specialists, we provide ratings for the probability of default of a given company.
Individual 1 to 5 company rating for probability of default
Factors include:

Company
Sector
Country
Sanctions
International support
Measure Probable Maximum Loss (PML)
AKE's credit model will calculate the expected loss, absent any significant material changes to the status quo. The following factors are taken into account:
Overall exposure
Amortisation
Expected recoveries
Shock scenario modelling
AKE's credit model will measure the financial impact of a given political or economic shock on the client's business. This includes the primary and secondary contagion effects of any economic or geopolitical scenario. Examples include:
China crisis
China collapse
Eurozone crisis
Eurozone collapse
US slowdown
US crisis
Russian militirism
Oil collapse
Industrial metals collapse
AKE's analysis team produces tailored reports and online content on the effects of geopolitical scenarios on the risk of default and non payment, as well as a range of other political, economic and security risks to clients' investment portfolios. Feel free to browse and share free content from our political risk analysis blog. 

For further information, please contact us.